Barefoot Divas Ignite Audiences and Empower Communities across North America & Canada.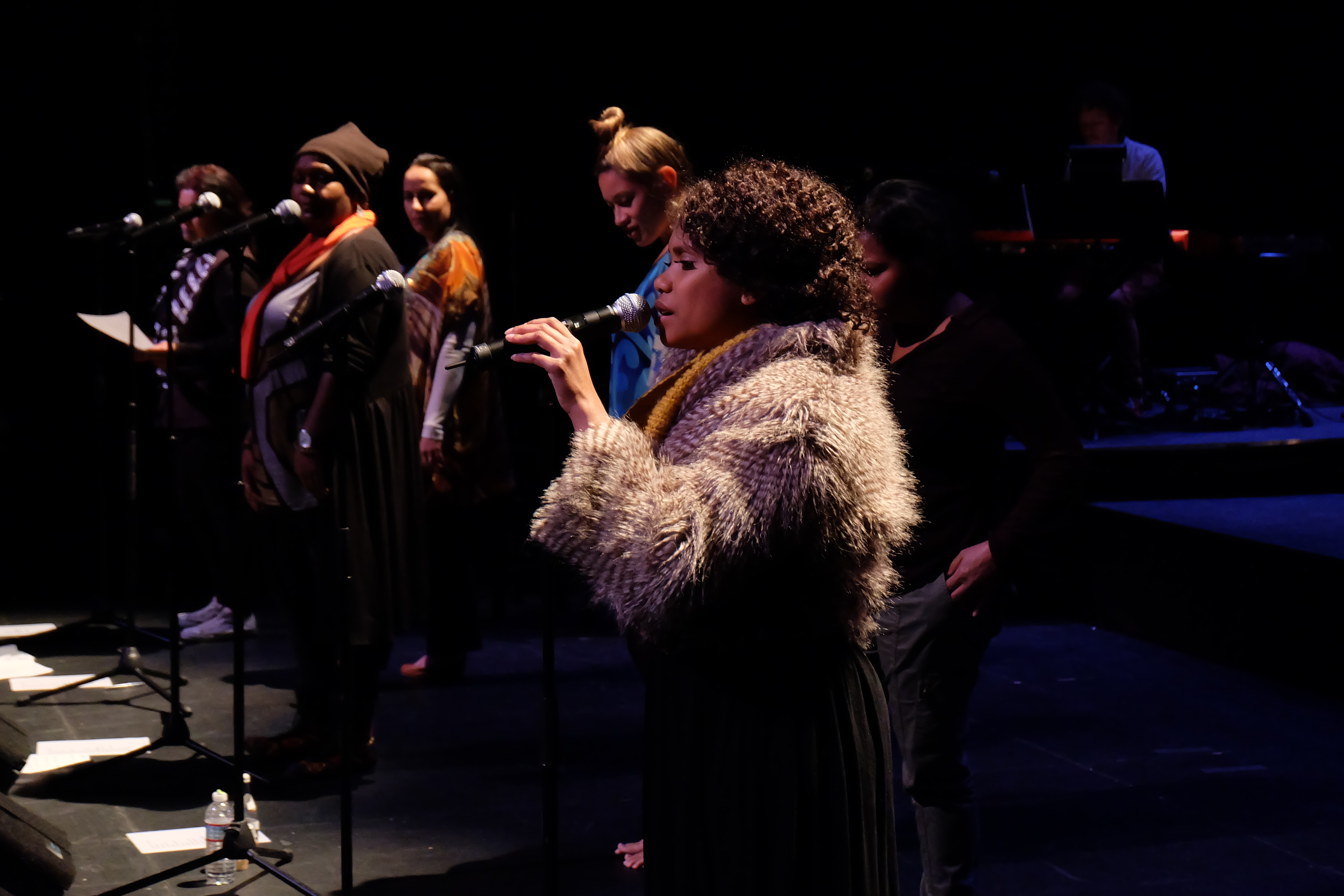 Pic: The Barefoot Divas rehearsing in California.
Barefoot Divas return to Australia and New Zealand with full hearts, overwhelmed and rejuvenated, after playing to packed houses in North America and Canada and receiving standing ovations, once again, for every single performance. The power of Barefoot Divas deeply-felt vocal performances combined with the intense, authentic cultural musical expression of the group resonated with audiences and communities as the tour gained momentum and word of mouth took hold across Canada and the United States of America.
Barefoot Divas reflect the diverse and life-affirming experiences of contemporary indigenous women, a perspective that proved to be compelling to North American audiences who packed the Zellerbach Auditorium Berkeley in California, the Leeward Theatre Pearl City Hawaii, Banff Centre in Canada and the Seattle Town Hall Washington DC.
Barefoot Divas broke new ground when they performed their critically acclaimed world premiere production Walk A Mile In My Shoes as part of the Sydney and New Zealand International Arts Festivals in 2012. They continue to mesmerize audiences as they share their message and their mission, through music and spoken word, to empower and educate women and children across the globe. Six women. Six distinct life stories tied to the complex history of Australia, New Zealand, and Papua New Guinea's indigenous peoples. Six strikingly fresh voices that move this history down a new and compelling path.
Highly awarded Indigenous actor and singer/songwriter Ursula Yovich (Aborigine Serbia/Burarra) soul filled Emma Donovan (Aborigine Gumbaynggirr NSW), NZ LaureateWhirimako Black (Māori), multi award winning Maisey Rika (Māori), Merenia(Māori/Romany-Gypsy) beat throwing artist who sings in 5 languages and the extraordinary singer and theatrical performer Ngaiire from Papua New Guinea come together as the critically acclaimed Barefoot Divas.
The ensemble's six-part harmonies and soaring voices is an experience to behold; performing a combination of original compositions in Aboriginal & PNG languages and a fusion of English and Maori (Te Reo) Barefoot Divas swing between acoustic roots and Latin infused soul. Standouts include the rousing Te Matapiko (Maisey Rika); Ngarraanga (Emma Donovan) dedicated to the stolen generations; This One Be Killer (Merenia); Two Minds (Ngaiire) Wahine Whakairo Whirimako Black and the emotionally charged group song Miminga. (Mother). Walk A Mile In My Shoes is a combination of spoken word, poetry and song.
Consistent with their philosophy and mission; Barefoot Divas outreached to disadvantaged communities and young women in California, Banff and Hawaii in addition to their concerts connecting with First Nations people in North America and Canada. Their tour culminated in concert dedicated to One Billion Rising for Justice in the Seattle Town Hall on Valentine's Day. www.onebillionrising.org to end violence against Women and Girls is a one day call to strike, dance & sing launched in 2013 and is the largest recorded global social action event in human history.
Barefoot Divas was curated & is managed and produced by New Zealand born Sydney based Manager Vicki Gordon. The stage production Walk A Mile in My Shoes was written by Award winning Australian playwright Alana Valentine with Music Direction by Adam Ventoura.